Gatsby's House - OC New Year's Eve 2021
Join us for the most upscale New Year's Eve Party in Huntington Beach, CA. Gatsby's House brings all your great Gatsby party dreams to life!
Orange County Nightlife presents...
GATSBY'S HOUSE
along the Oceanside edition
OC New Year's Eve Celebration 2021
5 Top Rated OC DJs
4 Hour Premium Open Bar
3 Areas To Mingle
2 Rooms of Music
1 AMAZING COUNTDOWN !!!
Join us for the best night out of the year! Orange County Nightlife is set to host a New Year's Eve party complete with Gatsby-esque glamour at the Pasea Hotel, Huntington Beach, California. Dance, party, and enjoy the amenities:
  •  Top OC DJs playing the hits: EDM, Top 40, & Open Format
  •  Inside Main Ballroom - Eric Cubeechee, Eva Kane, Peter G, CHZY, Ickee Dominguez
  •  Outside Heated tent - Jeremiah Red, Christian Ten, Dre Boogie, JP, MXR and Ickee Dominguez
  •  Multiple Fully Staffed Bars
  •  Two (2) Stages with State of the Art Lighting & Sound Systems
  •  All day check-in starts at 2pm for easy entry to get the party started! Person whose name the reservation/tickets are under MUST be present with ID to obtain passes. All patrons will be ID'd upon entry into event.
  •  Outdoor Heated Tent with own stage, bars and DJs
  •  Amazing VIP Area with:
   •   Early Check-in: 9:15 PM w/ 1st Access promptly at 9:30
   •   Private Ultra Premium Open Bar Drinks with multiple bars and staff for your convenience
   •   Limited Exclusive Access to VIP areas
   •   Upgraded Party Favors
   •   Private VIP Entrance to avoid the lines
   •   Tray Passed Appetizers in VIP area
  •  Complimentary Party Favors for ALL (while supplies last)
  •  One Spectacular Countdown Experience!
  •  Tanner's Restaurant will be open till 4am for after show eats (located in lobby of hotel) 
New Year's Eve is to champagne as parties are to Jay Gatsby. Don't miss out on this year's premier countdown celebration, Gatsby's House - OC New Year's Eve 2021at the upscale & trendy Pasea Hotel.
HUNTINGTON BEACH, CA – December 31, 2020 – Gatsby's House will be a trip back into the Roaring Twenties, when women were known as eccentric flappers and men spared no expense to be the big cheese. The Pasea Hotel in Huntington Beach is your best option to have the time of your life! Gatsby's House OC will feature top-rated DJs and will be the ultimate shindig this New Year's Eve!! 
From 9:30 p.m to1:30 a.m, General Admission "Movers" Guests will be able to enjoy premium drinks from our fully stocked premium open bar; featuring Titos Vodka and more. Meanwhile the Bees Knees will get to indulge with Ketel One Vodka, Johnnie Walker Black among other ultra premium brand & enjoy succulent hand passed appetizers from 10pm to Midnight.
Each ticket purchase is prepayment for your choice of beverages. Plus, this multi-room New Years Eve party will have surprises throughout the night; topped off with an amazing countdown in both rooms.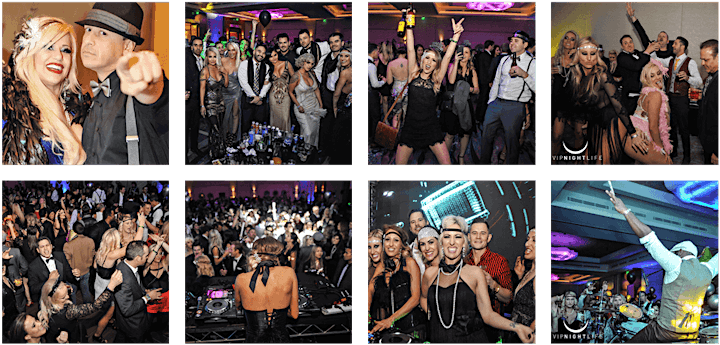 PURCHASE POLICY
Credit Card & ID:
Support:
Purchase Policy:
Event Booking:
Alcohol, Seating, Food:
Event Cancellations:
No Refunds:
Release of Liability:
Indemnity:
Collections & Legal Action Against Debt:
Arbitration Agreement:
Severability:
Thank you for your purchase!